By Robert "Dutch" Linthout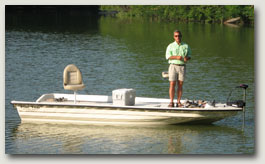 Lately it seems all good things start with a phone call. For those of you who followed my exploits on "that" famous private lake, this is almost like a follow-up. About a month ago I got a call from Mike Cleveland, a well-known and respected tournament bass fisherman. The first thing out of his mouth was "Hey Dutch, I have a private lake ..."
He had read "Hawg Heaven ... literally," the article that was published in the last edition of Mark's Hunting and Fishing Times, so when he mentioned private lake, of course he had my undivided attention. He is the caretaker of a really nice 20-acre lake near Sylacauga. Mike has lived on and fished this lake for some 30 years and over the years has gone through the same things most people do when living and fishing on private lakes. The biggest problem is the type of boats available -- they usually are are all small and uncomfortable. So when Mike told me to bring whatever I needed, I asked him about the room in the boat. Mike said there would be plenty of room for everything. When I asked him what kind of boat we would be fishing from he told me he had this new kind of boat: A Flat Top Boat.
When I got to the lake I looked down at the pier and saw this nice looking but very unusual boat. Mike gestured to the boat and said, "see, with that kind of a boat, fishing small lakes isn't inconvenient and uncomfortable anymore." He explained that he grew up fishing out of flat-bottom aluminum boats. We all know the aggravations when fishing with this type boat. One problem is to get your boat in the water. Often times there are no ramps so you'll have to launch your boat from a grassy bank. Several years ago I got an invitation to fish a nice-size lake and we figured on using my 16-foot bassboat. That worked great, absolutely no problem putting it in the water. Unfortunately at the day's end it took four guys, wooden planks and a major effort to get the boat out of the water.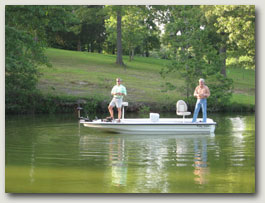 Often people who live on and around private lakes share, so one solution is to get yourself a little boat and park it in that lake until you need it. This does create a problem in that you are limited to either a small boat that you can drag onto the bank when you are through or have a bigger aluminum boat and just let it sit in the water. When you put in a larger aluminum boat you need a lot of prayer ... that it doesn't rain. If you want to let it sit in the water you need to have an automatic bilge pump and a fully charged battery. That poses a problem if you do not fish often. That battery is not going to last. So even if you haven't been fishing you still have to go back to the lake after a nice rain storm to make sure that your boat didn't sink. So the choices are few.
A small boat means that you first have to drag it into the water, then put in the battery, trolling motor, coolers, chairs, fishing tackle, gear and whatever else. At the end of the day you'll have to do the same in reverse.
Now here comes Mike Cleveland with an innovative and excellent idea. He has designed the ultimate small lake fishing/work boat. The the deck is totally flat, except for the small ridges on the side of the deck to avoid things rolling off. It had a tolling motor and two swivel seats and plenty, plenty, plenty of room to place tackle boxes, and if you have been reading my stories you know that I normally bring my own weight in tackle, rods, coolers, and whatever else. There was more deck space on this Flat Top Boat than any other bass boat on the market of comparable length and beam. This boat is 17.7 feet long and 90 inches in the beam. One of the nicest features is the fiberglass construction, which makes it quieter, and because the deck is flat the self-bailing design eliminates any rain accumulation. Aluminum boats take up a lot of their deck space with benches. Not so with the Flat Top. The battery for the trolling motor is hidden in the back and puts enough weight on the back to avoid "Butt Swing." If you have ever fished out of an aluminum boat without a motor you know the problem -- the back end of the boat swings with the wind, which is really troublesome. This problem is non-existent when fishing from a Flat Top. The on-board charging system avoids the necessity of having to drag the battery in and out of the boat.
The Flat Top is available in many color combinations and deck layouts. By the way this boat also has a five-year limited warranty. Apart from all the nice features, functionality has always been my main priority when owning a boat. I really liked the fact that I could freely move around in this boat. We were both standing up at the bow at the same time, flipping and pitching jigs around bushes and trees. No problem standing with the both of us standing on the same side while you fish, the boat is very stable. If your wife or girlfriend likes to get her tan, put her a lounge chair in the back because their is plenty of room. Kids? Bring them on, no more worrying about them turning over the boat.
The Flat Top comes with a Motor Guide 767 12/24 V. 67 lb. thrust trolling motor with gator mount bracket which moves the Flat Top around at about 5 miles an hour. You also get a 12 v. acc. plug/lighter, 8 gauge trolling wire, 2-50 amp. breakers, two high-back, all-weather seats with removable covers (third seat optional), textured deck, four tie-down cleats, front bow eye, rear tie downs, and a front port hole for wire access. The rear hatch has two deep cycle interstate batteries, battery trays, dual pro 20 amp. water proof charger, auto bilge pump for any water that gets in the rear hatch, side trim guard, and flotation. If you decide to add a graph or any other accessory on down the road, Mike has made that a simple procedure by running the wires through pipe with easy access at the bow and the stern. All the hardware is attached with 18-8 stainless screws, and the side trim is attached with aluminum rivets.
Every thing about the Flat Top Boat is built to last and to give you many years of enjoyment. I found out that Mike builds the deck in whatever configurations you want. From the bass boat design to the full bench and canopy design, you specify what you want and he'll build you the perfect boat for your pond or private lake. When I asked him about the price of the boat I found out that his pricing structure is eminently reasonable. This is the best looking functional small lake boat that I have ever been in.
By the way, did we catch fish? You betcha! Call Mike at (256) 249-2821 for more information or E-mail: flatopboat@charter.net